This stunning Moroccan style ceramic plate will add class and elegance to any kitchen or home decor. Use this plate to serve food or snacks – even place it on a wall or mantel to showcase this item's beauty. These one‒of‒a‒kind ceramic serving Plates are gorgeously hand painted, handcrafted and designed by Hebron Glass.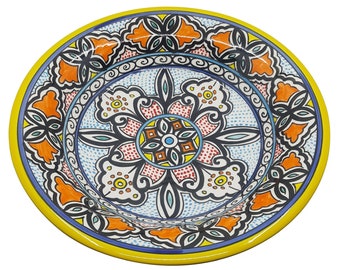 More item photos are available on Etsy
Click "Buy This Item Online" below to see them
Fashioning stunning works of art by hand out of clay, each item is baked in a kiln at a temperature of up to 1000 degrees Celsius, then meticulously hand-painted in breathtaking designs, glazed and refined to produce magnificent masterpieces of unrivaled beauty. This fabulous ceramic plate will astonish you and your friends with its dazzling kaleidoscopic array or brilliant colors!
[ ⌸ ITEM ID: 43 ]
ITEM DETAILS: Length: 13, Width: 13, High: 2.5
Also this item is:
Hand washed
Microwave safe
Lead free
Note
: based on the lighting the photos were taken in, the photos could present a very slight difference in color and shine than that of the real piece.