Our stunning hand-painted candle holder is handmade from recycled glass by Hebron Glass and Ceramics Factory artisans in the West Bank. These master glassblowers used recycled bottles smashed into pieces and melted in high-temperature ovens to create a piece of art.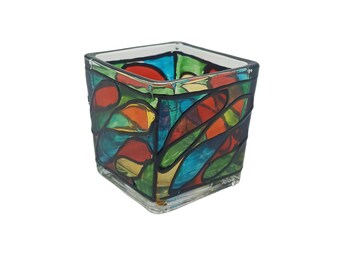 More item photos are available on Etsy
Click "Buy This Item Online" below to see them
Traditional Colorful candle holders are a lovely addition to your holiday decor.
[ ⌸ ITEM ID: 46 ]
ITEM DETAILS:
Height: 1.80 inches
Width: 1.70 inches
Depth: 1.45 inches
Note
: based on the lighting the photos were taken in, the photos could present a very slight difference in color and shine than that of the real piece.